News & Events
Frost/Nixon Girard/Sizemore

Hosting the Interview
of Context '09's
Editor-of-Honor
Jason Sizemore
(APEX Books)

Photo by Sandy Lender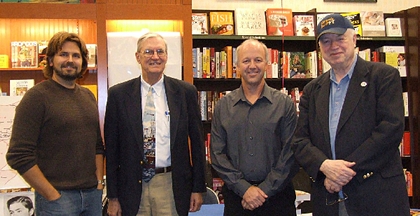 American History Fair (Barnes & Noble, West Chester, OH)
with James Cash, Kent Richardson, and Lester Horwitz
Photo by Wanda Richardson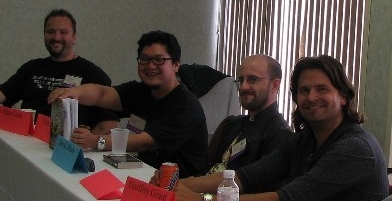 Context '07 (Columbus, OH) with Matt Cook, Chun Lee, Jim Hines, Geoffrey Girard
Photo by Heidi Ruby Miller

Featured interview in the September pub of Ingram Books (world's largest book distributor), just in time for the international "Talk Like a Pirate" day.
Presented seminar on "Creative Writing" at Joseph-Beth Booksellers Cincinnati, OH.
Presenting at Barnes & Noble Educator events (West Chester & Fairfield).
Contract signed with Middle Atlantic Press to write two more Tales Of... books.
A nice nod from the Ohioana Library Association in recognition of Tales of the Atlantic Pirates at an event to be held November 12th.
Presented "Creative Writing 101" at several local elementary schools.
Presenting "Research for Writers" at Barnes and Noble in West Chester Ohio
Several Pirates signings at the Beach Waterpark (Mason, OH)
Appeared on WGMD 92.7 Morning Show (DelMarVa) to discuss Atlantic Pirates.
Signings in Chestertown (MD), Rehoboth Beach (DE), and historic Smithville (NJ).
Attended the Horror Writers Association convention in New York




Reading at APEX DAY (Lexington, KY) 2009

Attended the Camp Necon horror writer's conference in Rhode Island
Presented a seminar on writing (and selling!) non-fiction and creative nonfiction at the local Barnes and Noble. Nice gathering of local writers!
On Halloween, was interviewed by Karin Phillips of KYW-1060 Radio (Philadelphia's leading radio station) regarding the writing of Tales of the Jersey Devil and the creature's extraordinary myth. The interview ran several times during one of JD's favorite days.
Reading, discussion and book signing at the University of Dayton.
Dragoncon (Atlanta), America's largest sci-fi/fantasy convention. Invited to be a panelist on the "Writing about Monsters" panel, and got to meet up with Writers of the Future mates Steven Savile, Luke Reid and Kevin J. Anderson.
Various events for Tales of the Jersey Devil along the Jersey shore, including stops at historic Smithville, Cape May, Ocean City, Stone Harbor and Cherry Hill.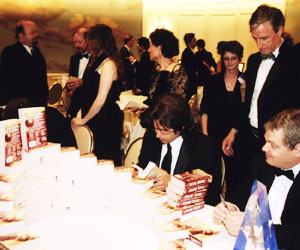 Signing books at Writers of the Future Awards Ceremony at the Beverly Hills Hotel
---
GeoffreyGirard.com